Bornholm free again 1946-2021
THE EVENT HAS NOW ENDED AS OF APRIL 11, 2021, 23:59 UTC.
To celebrate the 75th anniversary of the liberation of Bornholm Island on April 5, 1946, when Soviet troops left the island after 11 months of occupation, Danish radio amateurs will contribute to the festivities by being active in a "Special Event" that runs from April 1 to April 11, 2021, both days inclusive.
Radio amateurs with QTH on Bornholm and Ertholmene will use the call sign: OZ75BO.
Radio amateurs in the rest of Denmark will use the call sign: OZ75MAY.
We will to be active on CW, SSB and digital modes from the 160m band and up, including the WARC and 60m bands.
QSL: Via OZ1ACB, but we prefer that you request QSL cards via Clublog OQRS (we don't collect QSL cards). The OQRS will be active after the event.

See <QRZ.COM> for more information.
All logs are uploaded to Clublog on a daily basis. Some operators, but NOT all, will livestream upload to Clublog.
Upload to LoTW and eQSL a few weeks after the event, latest abt. May 1, 2021.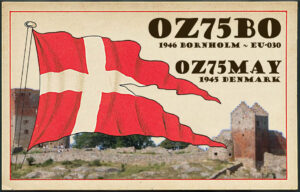 As operator on OZ75BO I worked 900 CW QSO's and 6 SSB QSO's. Together the four operators on OZ75BO worked nearly 4800 QSO's in CW, SSB and DIGI.
Thanks to all participants stations around the World.
CUAGN next time.