"Antennas should be heard, not seen"
Photographs included on this page are subject to Copyright ©
---
The Shack
The shack setup.
The computer is for logging only as well as lookups in QRZ.COM a. o.
The computer will never be a part of any radiocommunication whatsoever.
Soldering iron and screwdriver?
My workbench is upstairs and not worth taking photos off yet 🙂
CW on a PC? Never, I want to have fun.
---
Shack window view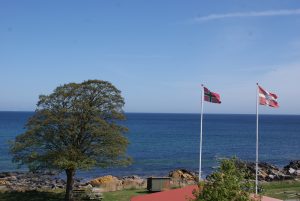 View over the Baltic Sea (looking towards NE) from my shack window.
On the flagpoles, left: The Bornholm Island regional flag and right: The Danish flag "Dannebrog", which celebrates its 800th anniversary June 15, 2019.
As you can see, it was a nice spring day with a calm wind from N/NW, sunny with abt. 8 dgrs. C.
---
Messy CW?
Here's why I sometimes mess around a bit in my CW.
He loves to push my hand while I'm sending CW and it happens that I get hold of his -…/.-/.-../.-../… instead of the paddles.
Then hell really breaks loose 😆 .
His name is "DX" and his motto is: "It is not necessary, but I need" and at the same time looking at his food bowl.
(Maybe he uses CAT Interface?)
---
Elecraft K-Line = K3 – P3 – KPA1500
Elecraft K-Line = K3 – P3 – KPA500 – KAT500
From left:
K3 Transceiver – P3 Panadapter – Dual Paddle Hex Key – Elecraft KPA500/KAT500 – Boya mic. on KW MC-50 stand.
The lights under the desk is my Elecraft KPA1500 Amplifier/ATU.
The KPA1500 fans are very noisy, so it¨s banished to a life under the desk, it helps a bit.
The K3, amplifiers and ATU's can be controlled on the PC with the Win4K3Suite application.
Paddle = Elecraft Dual paddle HexKey.

On the shelf to the right a Yaesu FT-450D. Only used as spare radio and non-home QTH activities.
Barefoot operation:
The K3 radio is equipted with internal ATU, Sub-receiver and 100 Watt output.
In most cases the internal ATU is bypassed and I will use the ATU in the KPA1500.
The P3, Panadapter, which gives me an excelent wiew over the band I'm working on.
The radio has 11 bands, 6 m through 160 m. The optional 2 m module is not implemented in my radio.
Power Amplifier operation:
On February 12, 2019 I got my first external PA-unit ever.
Since 1974 and until that date I have worked with 100 Watt.
From 1973 to 1974 QRP with 5 Watt.
Normally I will use the KPA1500 Amplifier/ATU when I'm QRV.
The KPA/KAT500 amp/atu is only used in the 60m band, sometimes also 10m and 12m bands, KPA500's fans are (much) more silent that KPA1500 fans.

Transceiver/Panadapter PSU:
Diamond GSV-3000, 30A at 13.8VDC (Not shown, under the desk).
Electronic log:
Ham Radio Deluxe (HRD), in my opinion the best logging application with full screen size window and clear fields and text, which is UFB for my bad eyes.
No small windows and rubbed text. The "Rig control server" is replaced with Win4K3Suite, where I can control both radio, amplifiers and ATU's
---
Yaesu FT – 450D
Are used as my spare station and non-home-QTH activities, like fielddays, ILLW etc.
Bands:  160-6m, incl. WARC and 60m bands.
Output power: 100 Watt.
---
Racal RA17L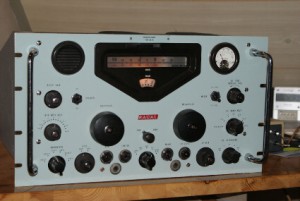 Vintage tube communication receiver.
Freq. range: 0.5 through 30 MHz.
---
FD4-Windom for 6-80m bands.

Feed point up 12½ meters and the end points are up 4-6 meters.
As I live 30 meters from the coast line, the alu telescopic pole is equipped with lots of guying ropes.

---
Vertical for 6/10/12 m bands.
Vertical for 6, 10 and 12 meter bands.

The antenna is an old antenna for CB-band, but modified to 6/10/12 meter bands.
The antenna is installed on the Chimney, abt. 8 meters up from ground (15 meter ASL).
---
Vertical (all bands 6-160m).
I have modified the originale design as vertical antenna to a kind of "Inverted L" antenna.
A 10 meters long wire are added to the top and sloping down towards south. This gives a better tuned SWR for the 80m and 160m bands. On other bands the are no noticeable changes in the radiation .
The antenna is 14 meters + the 10 meters long wire and should cover 160m to 10m bands, but works also on 6m band.
The antenna is self-supporting, but since my QTH are very close to the coast, sometimes with very strong winter storms, the antenna are equipped with guying ropes.
The antenna is installed with the feed point at ground level (up 25 cm) and with 20 burried radials of different lengths. Due to the lack of space, the radials are not evenly distributed, but mostly in the western and southwestern direction.
---
NVIS Dipole for 60m
Primary for domestic QSOs (No photos, testing).
2 x 13.4m, up about 2-3 meters.
---
Elecraft Dual Paddle HexKey
Magnetic tension, just a dream! Elecraft, but made by Bencher.
---
Bencher BY-4 paddle.
Perfect for my stiff fingers (hi).
---
Kent Twin TP1-B paddle
Very heavy and solid. Nice to use.
---
Vibroplex Original
Including round vario arm.
---
Vibroplex Square Racer, Iambic paddles.
Magnetic tension, easy to ajust and use.
---
CWtouchkeyer, P1PAD, Iambic paddle.
No moving parts or contacts, you just have to touch the paddles.
You have to pratice a lot, not easy to use. It CAN be very sensitive to HF on some bands, but else nice to use.
Is available in many configurations, with and without internal keyer Electronics. My model have only the paddle Electronics and I use the internal keyer in the K3 transceiver.
---
Great Northern Telegraph (GNT) handkeys
Two different models.
The black one (model 605) is similar to the one I – for many years ago – learned the art of CW.
My arthritis wrists do not allow them to be used daily, but they are touched once in a while.
---
Previously used stations.
1969-1973:
Various radio stations 25 W – 2-3 kW as professional radio operator.
1973-1974:
Ten-Tec PM2B QRP transceiver, 2 Watt, modified to 5 Watt output.
1974-1977:
Yaesu FT-200 transceiver, 100 Watt output.
1977-2011:
Atlas 210x transceiver, 100 Watt output.
2011:
Yaesu FT-101ZD transceiver, apx. 120 Watt output.
2011-2013:
Yaesu FT-840 transceiver, 100 Watt output.